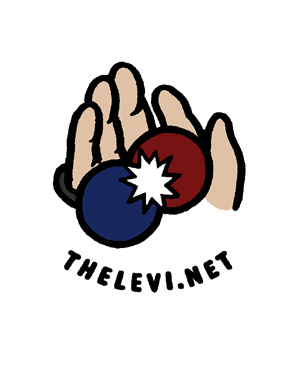 Deutsche Version
Für die deutsche Version hier klicken.
Please check the German version of this page. At some point I'll translate it to English.
Forum
Contact
Prepend the initials of bernhard wagner to the "@" and then append "thelevi.net" (but remove the quotes " first).
Description
Freely cited from "Mel Bay presents Play the World: The 101 World Instrument Primer", p. 83

Aslatua, Kashaka, or Thelevi - Ghana
Aslatua, kashaka, or thelevi are three of the numerous names for a double rattle found in Ghana and surrounding countries. Aslatua are made from two small swawa gourds, with pebbles, or seeds inside. The two gourds are attached to each other with a thick string. Depending on the region aslatua are used by men, women, or children. Aslatua are capable of very complex rhyhthms especially with a set in each hand.

Play the Aslatua, Kashaka, and Thelevi
One gourd of the aslatua is held in the palm of the hand so that the string passes between the index and middle fingers close to the base of the fingers. The second gourd is held in place by the last two fingers. With a straight wrist, the aslatua is shaken by moving only the forearm forward and back with enough momentum so that when the pinky releases the gourd it will swing around the hand to the front side of the thumb and hit the other gourd, and then back around the hand again to hit it again from the other side. The moving gourd can be caught by the little finger at any time. This technique takes practice, and should be performed with one set of aslatua in each hand. Once a basic rhythm is established, variations can be created by whipping the gourds so that they travel around the hand faster, twirling the moving gourd so that it does not always hit the held gourd, and alternating the two hands.
Links
Learn Asalato
Asalato Workshop
German article referring to thelevi.net
Online shop and instructions with videos
Master Thelevi Player
Another Master Thelevi Player
Wikipedia Entry
As of July 2008 inactive site ("Our Webstore is temporarily closed"), but very informative
illustrated instructions and videos
illustrated instructions
rating of skill level
shop and illustrated instructions
World Patica Association
discussion forum (rudimentarily translated by google)
Basic information and links to other sites
ideas, advice